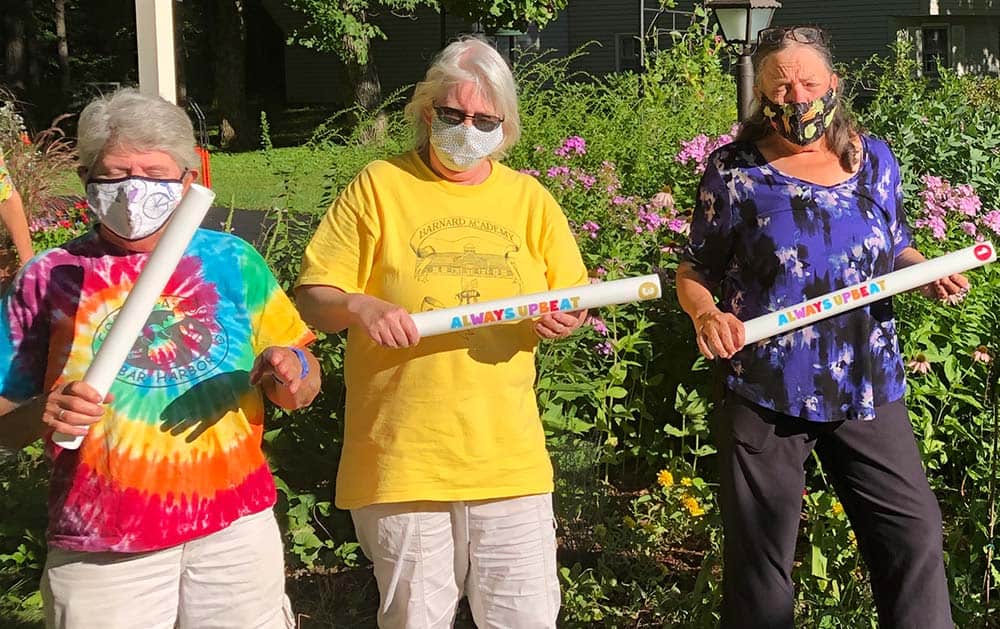 Our Newest Product has launched!

After months of isolation and reduced activities, we are all craving new ways to engage and have fun.  Always Upbeat provides endless opportunities to make music together, while adhering to social distancing guidelines.  It's a sure way for small groups to feel energized and stimulated.
The concept is simple: think bell-choir meets Guitar Hero.  Simply hand out the tuned tappers (which can be wiped down after each use), turn on one of the free videos posted on the Calypso Connections YouTube Channel and start playing.  Repeat over and over for hours of enjoyment and stimulation.
A bag of Always Upbeat Tappers including 16 tappers is $59.95 + $18.95 Shipping
---
Always Upbeat for HOMESCHOOL FAMILIES


Where music and math go hand in hand.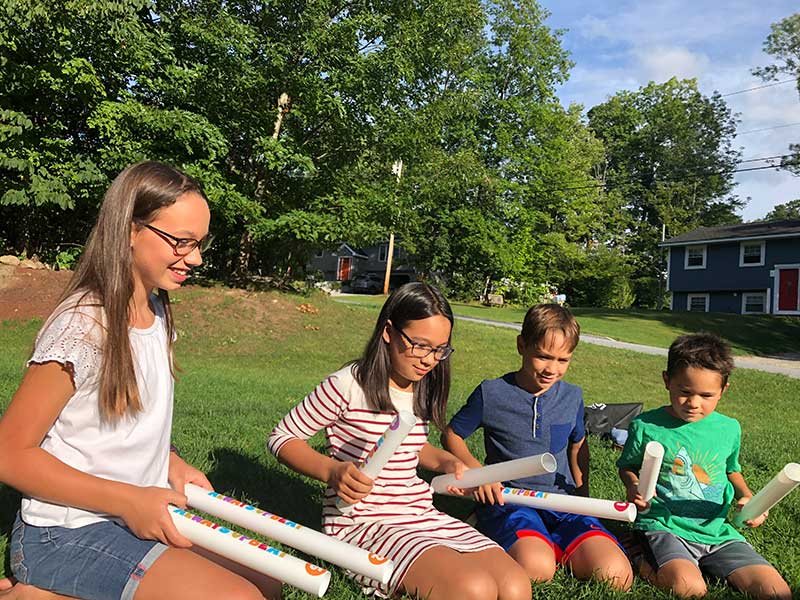 Your family will have a ton of fun playing the Always Upbeat tunes together. The beauty of Always Upbeat is that it also promotes mathematical thinking. How does it do that? Well, math is like music, in that it is all about patterns. Back in the day many classrooms had pianos in them, and teachers would play and sing folk songs with their students on a daily basis. These simple melodies introduced patterns in a way that was easily accessible. Always Upbeat follows in that tradition, employing aural skills to help kids recognize and identify musical patterns. Kids are learning through osmosis the importance of structure and repetition, and that is a big advantage when studying mathematics. In fact, it will help them think like true mathematicians.
In addition, tappers can be a great tool for practicing beginning math skills such as counting, comparing, ordering, simple addition and subtraction, and describing shapes. Check the box below to receive a free list of Math Activities you can do with your kids, and tap your way to skill mastery.
Homeschool Option, which includes a bag of 8 tappers plus a FREE list of 15 Math Activities is $32 + $18.95 Shipping
---

FEATURED VIDEO
The videos are free and are updated periodically.


---

TIPS FOR SUCCESS, OFFERED BY PARTICIPANTS:
• It helps to keep your eyes on the top of the screen, not the bottom
• Stay relaxed, and don't grip the tapper too hard
• If it seems both hard and fun, that's a good thing
• Singing/humming/smiling is encouraged
Always Upbeat is all about the shared experience of making music together, which can help maintain quality of life by stimulating the heart and brain. If you've been craving a new activity for your group that is easy, engaging, enjoyable and affordable, look no further.  Always Upbeat is for you.  It provides intellectual, social, physical and emotional benefits.  With one simple purchase of a bag of tappers, you'll have hours of entertainment at your fingertips.
Give us a call at 802-558-4323 or email jen@calypsoconnections.com to learn more.