Steel Band Popup
5-16 People

Our signature musical activity

1+ hours
This can be one hour in length — perfect for breakout sessions — or it can be a longer, more in-depth workshop. Whatever the time frame, we start by clapping a beat, then counting and creating several rhythms at once.  Next we proceed to the steel pans – three or four different sizes – and do a couple of exercises to acclimate ourselves. Finally, we start to play a tune, using simple patterns taught by rote. Layer by layer it all comes together. It's always a thrill when we can hear the tune — in four part harmony!  Popular tunes include Coldplay's Viva la Vida, Bob Marley's Three Little Birds, Todd Rundgren's Bang the Drum All Day, and Pachelbel's Canon in D. Throughout the process we listen, appreciate, take risks, build trust, align goals, and experience cooperation over competition. All good things to relate back to your own organizational values and culture. With Steel Band Pop up, you all get a chance to Be the Band!
– – – – – – – – – – – – – – – – – – – –

Tap Tap Tap
5-100 People

Uses Always Upbeat Tappers
20-35 min.
This event lasts 20 – 35 minutes and is perfect to set the tone for a large meeting, energize the room after a lunch break, or come together to close an all-day conference. Tap Tap Tap is organized as a call and response activity — the steel pans play a pattern and the Always Upbeat Tappers, which are tuned plastic tubes of different lengths, play it back.  It is invigorating, unifying and playful. It's also a great stress buster. The purpose of Tap Tap Tap is simply to have fun together, and enjoy a whole group activity.
– – – – – – – – – – – – – – – – – – – –
Engine Room
5-50 People

A structured improvisation session

30 – 55 min.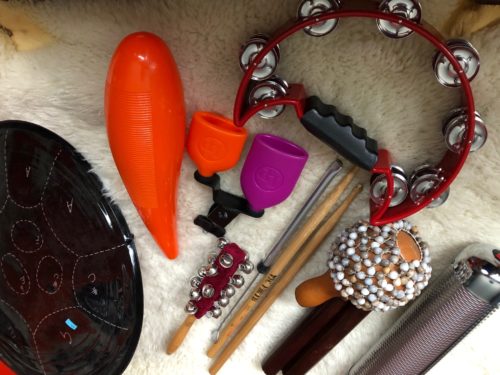 Every steel band has a percussion section, which is called the Engine Room. The purpose of the Engine room is to drive the music forward with a high-energy beat. Traditionally, the Engine Room included a brake drum, cowbell, scrap metal and other discarded objects.  In our Engine Room we use all sorts of repurposed items, as well as hand drums and other Latin percussion. First we brainstorm work-related phrases until we agree on a few that can translate into rhythms that resonate. Next we start to play those rhythms. We take time to settle into a groove, to let the power of the rhythm unite the group. At that point individuals or pairs improvise over the collective beat.  The Engine Room is physical and emotional — and team members will feel a sense of belonging and pride.  It's an opportunity to create, relate, and connect in a new way, as participants take risks and build shared meaning.
– – – – – – – – – – – – – – – – – – – –

The Steel Pan: Symbol of Resilience
Any size group

Lecture/interactive demonstration

50-60 minute presentation about the history of the steel pan
Music is woven into the cultural fabric of any country, and the evolution of the steel pan in Trinidadian history is a rich tapestry indeed.  As you learn about the fascinating events that lead to the invention of the steel pan, you will also hear tunes played on the instrument, and have the opportunity to participate in making some music as well.