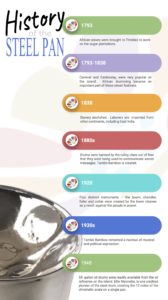 Steel drums, also known as pans, are the only family of chromatic, acoustic instruments invented in the twentieth century. They hail from Trinidad, and their fascinating history is inextricably linked to the culture and resiliency of the Trinidadian people.
At one time or another, Spanish, English, Dutch and French colonialists ruled the island of Trinidad. African slaves were brought to Trinidad in 1783 to work on the sugar plantations. Celebrations such as Carnival and Canboulay, (the burning of the sugar cane fields) were very popular on the island, and as the slave population grew African drumming became an important part of these street festivals. When slavery was abolished in 1838, laborers were imported from other continents, including many from East India. With this new influx of people and culture came the festivals of Hosein and Ramdilla, both of which incorporated lots of rhythm and drumming.
Street festivals began to get rowdy and rough during the 1860s and 1870s. Drums were banned by the ruling class in the 1880s out of fear that they were being used to communicate secret messages. More melodic instruments were introduced to the parades and celebrations by the colonialists, to replace the drumming. As a protest, the Tamboo Bamboo movement evolved — cutting lengths of bamboo and stomping them on the ground. Four distinct instruments — the boom, chandler, fuller and cutter were created by the lower classes as a revolt against the people in power. This art form remained a nucleus of musical and political expression throughout the 1930s.
Suppression and hardship were reflected in the Tamboo Bamboo movement, and eventually an element of violence rose to the surface. Tamboo Bamboo bands were outlawed because rival bands were fighting one another with the bamboo. At the same time, the need for artistic expression through rhythm continued. Gangs started picking up metal dust bins, biscuit tins, garbage lids and beating on them, mixing the sounds of bamboo and metal. Metal eventually replaced bamboo and the idea of pan was born.
During WWI Carnival was suspended in Trinidad and Tobago but the sounds of pan continued to be developed. As metal surfaces were hit repeatedly, musicians realized the pitch changed. By 1948, 55- gallon oil drums were readily available from the oil refineries on the island. People such as Ellie Mannette, Winston "Spree" Simon, and Tony Williams are credited as pioneers of the steel drum, creating the 12 notes of the chromatic scale on a single pan. When Carnival celebrations resumed in Trinidad after World War II, the steel pan became an important part of the street festival.
The steel drums have continued to evolve to this day. They are now the national instrument of Trinidad and Tobago, having ascended from the most depressed areas of society to glamorous concert halls around the world. They truly are the voice of a diverse, multi-cultural people.